Herb rich foothill forest
Herb rich foothill forest (EVC 023) occurs on fertile well drained soils with moderately high rainfall. As you climb out of the gully the habitat becomes drier and the edge of the herb rich foothill forest   is  to the right of the path.  Note the large shiny oblique leaves of Eucalyptus obliqua (mess mate)  on the forest floor, fallen from the tall trees with their brown stringy bark. Fruit of the mess mate  are wine glass shape gum nuts with sunken valves.

Under storey consists of prickly tea-tree (Leptospernum continentale), sweet bursaria (Bursaria spinosa)and prickly currant bush ( Coprosma quadrifida) with a herb layer that includes flax lilies,  orchid species, fireweed, bracken and grasses.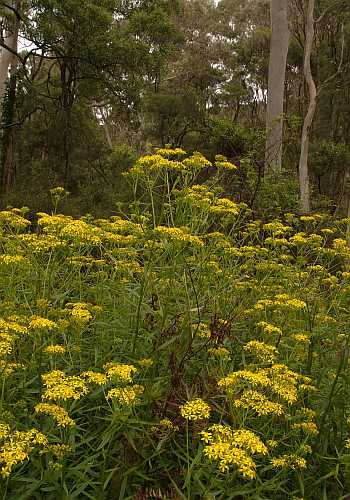 Senecio minimus – Shrubby Fireweed